[ April 2000 ]
[April 29, 2000 - Handed by Bruno] Here's the cover for the new Sinéad album Faith and Courage, as taken from the French mag Les Inrockuptibles.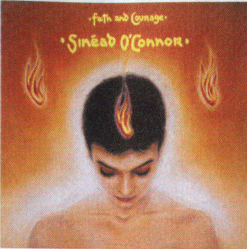 [April 28, 2000 - Handed by Fruitdog] Click here to read the sell sheet for Faith and Courage, due out on June 13. The tracklisting and sequence is not final yet, but there are fifteen tracks thought to take place on the album:
01 The Healing Room
02 What Doesn't Belong To Me
03 Jealous
04 Daddy I'm Fine
05 Preacherman
06 Hold Back The Night
07 Till I Whisper
08 Emma's Song
09 If U Ever
10 No Man's Woman
11 Summer's End
12 Rainy Day
13 The State I'm In
14 Kyrie Eleison
15 Full Circle
[April 27, 2000 - Handed by Christian] The Irish Times published an article yesterday on Sinéad's HQ gig. Click here to read it!
[April 25, 2000 - Handed by Mandy] Sinéad played a very special gig at the HQ venue in Dublin last Sunday (April 23). During her chat with John Kelly, she talked about various things -- from her musical influences to the plans for the new album. She also performed three new songs from the upcoming album as well as many cover numbers, one of which is Loreena McKennitt's Full Circle. The song is planned to surface on the John McKenzie film, When The Sky Falls. Read Mandy's gorgeous review here.
[April 20, 2000 - Handed by Ken] A new publication titled The Whoseday Book - A Unique Diary Book For The Millenium is now on sale in Ireland. The diary book includes writings, drawings and photographs of over 300 people for a particular day. Sinéad chose February 1 to write about, which is St. Brigid's day. Her page is also accompanied by an illustration of Brigid drawn by her! Here's what she wrote:
"I have chosen St. Brigid's day in honour of God the Mother, the spirit of Compassion. As represented by Brigid who brought
Music to soothe the world. I realise this doesn't look like Brigid! But it is a representation of feminine creativity. And Peace.
In honour of the Goddess."

Click here to see the drawing.
[April 20, 2000 - Handed by Eduard] Q Online reports that Sinéad has been promoted by the Tridentine Church, the Catholic splinter group which ordained her as a priest last year. According to the article, the promotion has made Sinéad an Archdeacon in recognition of her work for Dublin's homeless people. Read the full article here.
[April 20, 2000 - Handed by Eduard] The 12" single set of Release is also out. The tracklisting is as follows:
Part One (blue sleeve): Nu Yorican Soul Mix / Nu Yorican Instrumental / Masters At Work Dub 2
Part Two (red sleeve): Rollo Remix / Masters At Work Main Mix / Masters At Work Dub 1
[April 19, 2000 - Handed by Ken] Irish music mag Hot Press featured two articles on Sinéad in its March issue. The first one is a great piece in which Sinéad answers questions about her favourite things and tells her concept of things from heaven to hell - read this interesting article here. The second one is about the new album Faith and Courage, and especially about her collaboration with Wyclef Jean. Read it here.
[April 18, 2000] It is reported that Sinéad will make her live comeback in April 23 at the HQ venue in Dublin. If the show is a success, it's highly proabable that she will tour Ireland and the United Kingdom again. The plans for the show include chat with Irish show presenter John Kelly about her favourite artists and songs.
[April 17, 2000] Afro Celt Sound System track Release is finally out as a single. The single package includes remixes by Masters At Work, Rollo & Sister Bliss of Faithless and Nu Yorican. For a sneak preview click here and hear the radio edit of Rollo's remix! The tracklist and the cover of the CD single is as follows;


1 Release (Album Edit) 4:15
2 Release (Rollo Remix - Radio Edit) 3:59
3 Release (Nu Yorican Soul Mix) 8:01
[April 14, 2000 - Handed by Christian] Sinéad's new single No Man's Woman goes to radio stations worldwide. So call your favourite station and request it!
[April 7, 2000 - Handed by Eralp] Iarla O Lionaird of Afro Celt Sound System has a new solo album out. Entitled I Could Read The Sky, the album includes two songs featuring Sinéad! One is a live performance of a traditional Irish song called Singing Bird and the second is Sinéad's version of another well known Irish song, Roisin Dubh, which she sings in Gaelic.
[April 2, 2000 - Handed by Christian] The People, an Irish newspaper, has two articles on Sinéad. They're both on probably one of the most interesting Sinéad stories you've ever heard. Briefly, she comes across a homeless man on the street while going to a charity gala and she stops by to take the stranger in her car. Then she brings him to the party, and spends the evening with him, eventually finding a hostile for him to say in! Read the main story here and read the comment here.
[April 1, 2000 - Handed by Marcel] Lyrics to Sinéad's upcoming single No Man's Woman are available now! Read the lyrics here.

© 2000 Deniz Cebe
This page is the news database of Universal Mother for April 2000.
Last updated on May 11. Modificated on April 13, 2001.